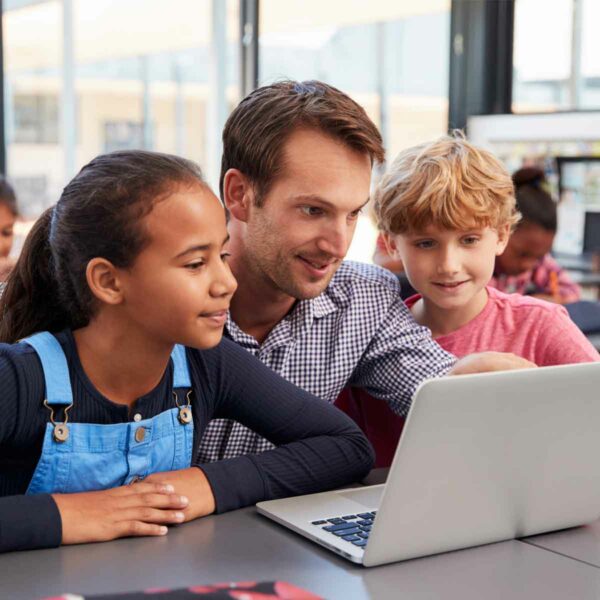 Role models, educators and mentors all at once – teachers play a big role in shaping the values and interests of their students, creating long-lasting impacts on the lives of countless generations. With WSU Online, you can now earn your Master of Teaching (Primary) with the convenience of online study, and join the next generation of education leaders.
There's more than one path you can take with a Master of Teaching (Primary), and you might not always end up front and centre in the classroom. Take a look at the paths you can take with your qualification.
In the classroom and in schools.
Many people with a career in education tend to work within the school environment. It's a great way to make a personal impact on students.
Earning a Master of Teaching (Primary) means you can take your classroom experience and expertise to the next level. You will find your opportunities broaden to include leadership positions such as a primary school deputy principal or principal. Shape the culture of learning at your school with your influential expertise. All while still being immersed in inspiring school environments.
If becoming principal isn't your calling, you've still got options. You can move into specialised areas such as a key learning area leader (e.g. literacy or numeracy), specialist teacher (e.g. arts, languages, health and PE), wellbeing coordinator or special education teacher and make further impacts on children's learning.
Constructing and influencing students' learning.
If your career aspirations lie outside the classroom, there are still many paths you can take in the education space. You can work to improve the structure and delivery of primary education as a curriculum designer or learning designer. Many curriculum designers work for private companies, educational facilities or even the Department of Education.
With your qualification and the right teaching experience under your belt, you may even land a job as a policy officer and advisor for government agencies. You'll still be making an impact on children's education, using the expert knowledge gained from your degree to make improvements that reach beyond individual classrooms.
If COVID-19 has taught us anything, it's that education will continue to utilise digital technology. So why not play a part in perfecting it? With your qualification, you can also take the opportunity to lend your skills in designing and crafting content to be taught online.
Educational research.
Every industry and organisation, no matter how big, small or influential, needs the research and data to back up and push new developments in the right direction. With a masters qualification, you will have the opportunity to extend your abilities to the field of education research, where you can examine and identify new ways of delivering the best possible education for students. You may even decide to take on further research-oriented studies, such a PhD or doctorate.
Educational research tends to inform other industry roles, like Curriculum Designers or Textbook Writers, Editors or Publishers who use trends, case studies and statistics in producing up-to-date content. Even if you aren't in a role where you're researching trends and new ways of teaching to implement, as someone working in teaching you will always be impacted by new findings in educational research.
Teaching your peers.
People are always learning, no matter their age. So naturally, you might not always be teaching children in your education career. With a Master of Teaching (Primary) and the right amount of classroom teaching experience, you could find yourself educating future preservice teachers. You could even become an Online Learning Advisor and prepare those who choose to study online, like yourself. Help shape the teachers of tomorrow as an expert in digital learning.
A Master of Teaching (Primary) will provide you with the skillset required to take on leadership roles in the school environment, as well as roles behind the scenes that will impact the way students learn.
If you're looking to enrol in a Master of Teaching (Primary) with WSU Online, you can find more information here.
Ready to enrol? Apply now.