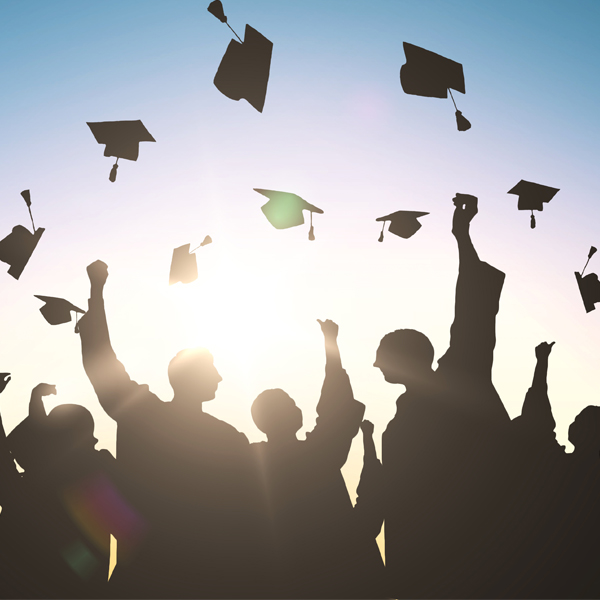 WSU Online has said goodbye to its first graduates. Farewells are always bittersweet, but we know our alumni will cherish the time they spent in the WSU Online Community. And we will always value having played a part in each of their journeys.
In the spirit of passing the baton, some of our alumni have shared their top tips for new students.
Shaniya, Bachelor of Social Science (Criminology and Criminal Justice)
"Online study is extremely flexible, but it's important to keep motivated and stay on top of your coursework."
Shaniya began online study at the same time she moved to Melbourne. Working full-time while studying had its challenges, so she made organisation and time management her top priorities. The hectic schedule was a balancing act, but one that paid off.
"Be organised. Otherwise it'll be the final week of the trimester and you'll be struggling to complete your final assignments."
Studying from the comfort of her home never meant isolation for Shaniya. Discussion boards and Collaborate sessions allowed her to find support from her peers and staff. And of course, she was able to access "the constant support" provided by her Online Learning Advisers (OLAs) and Student Advisors.
"Understand you are not alone. Use all your available support to enhance your learning."
David, Bachelor of Business (Marketing)
"Make use of all your resources. That's your OLA, your fellow students, calendars, podcasts, videos, reading resources, everything."
The convenience of learning around David's full-time working hours is what made online study so appealing. He completed most of his unit readings "on the train to and from work". By squeezing in extra study time between the 9 to 5, he was able to make the most of the available study resources.
"Every tiny thing adds up to make the degree that much easier to complete."
Studying in the company of his girlfriend and two cats, he valued peer discussions in his online classroom. Collaborating and answering questions with fellow students made for a "really great learning experience". One that helped cement his conceptual knowledge with likeminded students.
"Enjoy it. There's no point in doing this kind of study if you hate every minute of it. Collaborating with others will make the experience that much better for you."
Ryanesh, Bachelor of Business (Human Resource Management)
"Make sure you're always doing your modules weekly. Once you start to fall behind, the weeks can start to add up."
Ryanesh was sick of his one-subject-per-semester study load on campus. Clashing with his schedule, he found that online study opened the way to a more balanced life. Even when his son was born, he could arrange his coursework around his commitments as a new parent.
"The option to study online was very helpful in allowing me to log in and attend modules around my son's schedule."
His online units may have been "more engaging" than on campus. But Ryanesh still recognised that his success with online study was largely driven by his own motivation. The best way to progress was by "completing each unit with the rest of your class" to avoid falling behind in the coursework.
"Don't hesitate to jump into online study. It opens a lot of doors and brings a lot more time back into your schedule."
Are you interested in online study? Take a look at our range of online courses and get your foot in the door.