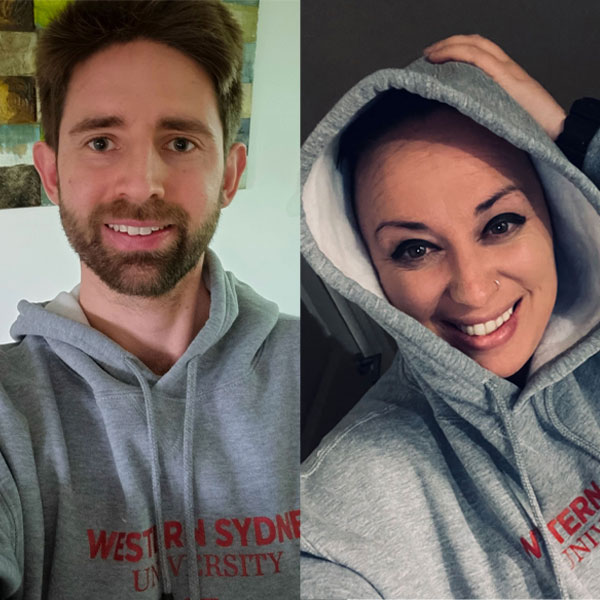 Starting a new course can be daunting, but it doesn't have to be with WSU Online. Thanks to the unparalleled flexibility of online study – and full access to the exact same support options available to on-campus students – you'll be able to make great strides towards your career goals, all while balancing work and family commitments.
At WSU Online you're surrounded by other students embarking on the same journey as you. With virtual Orientation-Week events in WesternLife – a platform designed from the ground up to connect you with your peers and help you access the support you need – you'll make your way through your first Teaching Period with ease.
We spoke to two WSU Online students about their experience during their first few weeks of study. Here's what they had to say.
Lisa, Bachelor of Business with a major in Human Resource Management.
Lisa began studying with WSU Online after having her first son, Marshall, and completing previous Diplomas and Dual Diplomas focusing on Human Resources. On top of online study and caring for her family, she runs her own online business.
"Human Resources is my passion… I was born to do this and I will get there!"
Why did she choose WSU Online? In a word, because of the flexibility – which "just made the most sense" – allowing her to study while balancing work and parenting.
How was your virtual O-Week in WesternLife?
O-Week is an opportunity for students to get to know one another and familiarise themselves with WSU Online's various systems, and is fully-accessible through WesternLife.
"I really enjoyed O-Week! I'll sure enough be floating around on WesternLife and posting messages. It's nice to know there are others out there going through the same thing as I am."
Lisa particularly enjoyed the daily "O-Week treasure hunts" on the platform, and working with fellow online students each day while learning more about how her study will work.
How have your first few weeks of study been?
Lisa loves connecting with new people, and online study made it easy. Between open book assessments, interactive weekly discussion boards, and group tutorials, being able to connect with other students on the same path has been a highlight of her journey so far.
"The delivery of online study is just as social as face-to-face learning."
Andrew, Bachelor of Psychological and Social Sciences.
Before online study, Andrew had previously worked in broadcast media for the last 13 years. Outside of his career, Andrew's love of long-distance running led to him representing Australia in the Spartan World Championships in Greece. He has also recently published his first young adult novel.
Satisfied with his career goals in media, he decided it's time to make a career change. He is now studying a Bachelor of Social Science and hopes to become a Clinical Psychologist.
"My best friend recommended WSU Online to me, after stating its quality and flexibility, especially for online students."
How was your virtual O-Week in WesternLife?
Orientation helped Andrew ease into his online study. By reinforcing the habit of logging into the Student Hub daily, he quickly overcame the anxiety that comes with talking to new peers online.
"Not having studied since 2009, O-Week was critical for me as I returned to study."
He enjoyed "swapping stories and being available to support other students", and felt that connecting with other students helped him feel connected to the broader WSU Community.
How have your first few weeks of study been?
Studying social science, it's no surprise that Andrew has loved learning about socio-economic class, completing real-life fieldwork in local communities, and exploring sociological issues from a psychologically-informed social justice perspective.
"I've loved the flexibility online offers. No matter where I am, if I have an internet connection, I can continue with my subjects."
The coursework has been both dynamic and engaging, inspiring him to "learn more about the world around [him]".
"There's a long road ahead, but I'm committed to reaching my goal of becoming a Clinical Psychologist."
Are you thinking of studying with WSU Online? Contact a Course Consultant today to discuss your options. If you're a current student, visit the Student Hub to access your online classroom and study resources.